Fig and radicchio salad with blue cheese and pickled radish
Prep 30 min
Cook 25 min
Serves 4

Ingredients
2 red onions, peeled and cut into eighths through the stem
Salt and pepper
2 tbsp balsamic vinegar
4-5 tbsp olive oil
1-2 tsp soft brown sugar
6 ripe figs, sliced in half widthways
75g walnuts
Juice of ½ lemon
1 head radicchio, finely shredded
100g watercress
120g blue cheese, such as Stichelton or Oxford Blue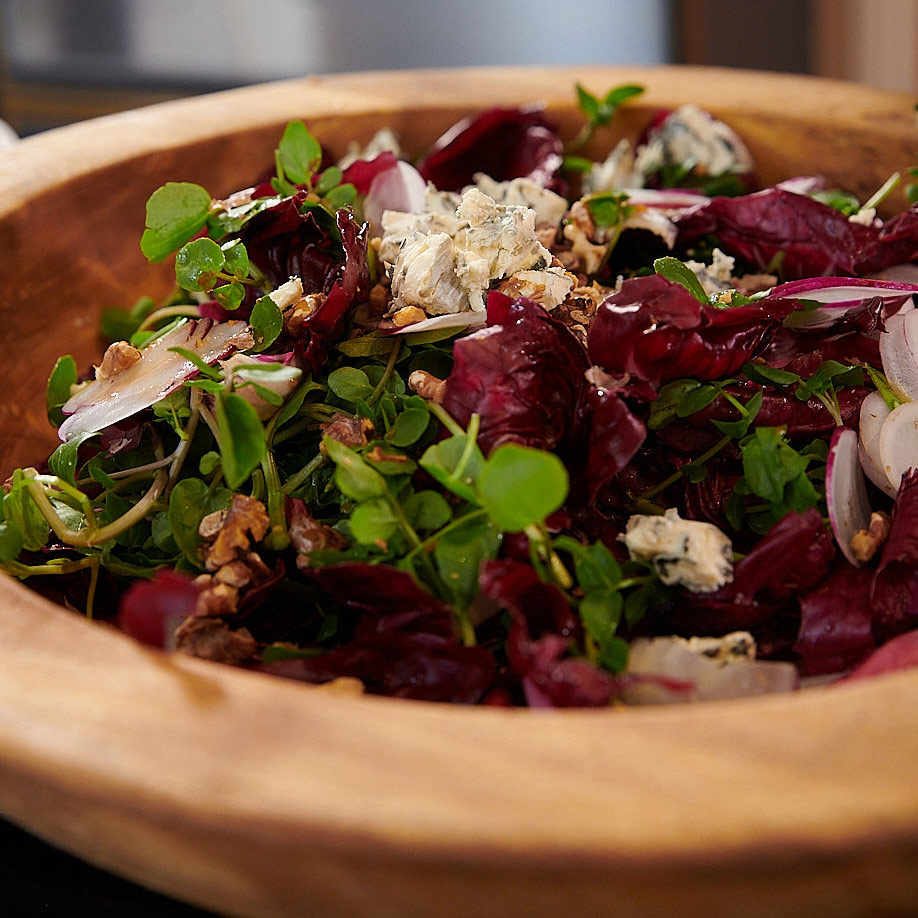 Method
Heat the oven to 200°C (180°C fan)/390F/gas 6. Scatter the onions in a large tray, season generously and drizzle with a tablespoon of the vinegar and enough olive oil to coat them all. Toss with your hands, lightly scatter with brown sugar, and balsamic vinegar then roast for 10 minutes.
Meanwhile, put the figs cut side down on a different tray, and season with salt, pepper, a little brown sugar and a drizzle of olive oil. Roast with the onions for another 10-12 minutes, until the figs are slightly softened and releasing their juices and the onions are crisp around the edges, but otherwise tender and sweet.
Drizzle the figs with the rest of the balsamic vinegar. Put the walnuts in a small baking tray and roast for five minutes in the same oven until slightly darker in colour and smelling nutty. Remove from the oven and run a sharp knife through them once or twice to break them up a little.
Pour any juice from the figs' roasting tray into the OXO Dressing Shaker, add in two to three tablespoons of olive oil and a squeeze of lemon juice. Season to taste and shake together. Wash the raddichio and watercress leaves with OXO Salad Spinner. Arrange them on one large plate (or individual plates) and top with the silky red onion. Slice raddish with an OXO Mandoline for wafer thin slices. Sit the figs among the onions and dot around the cheese. Scatter over the walnuts, dress and serve.